FRIDAY, MAY 4, 2012

Dare to Share #6

You may be wondering why there is a picture of a salad on the Dare to Share link. Well I just got back from spending a few hours with my teen daughter. We used a buy 1 get 1 free entree coupon at Fridays, and spent a few hours talking and enjoying a good meal. I LOVE the Give Me Stripes program. Fridays is one of the best restaurants for coupons and deals. I literally get a new coupon every single time I visit. It's either a free appetizer on my receipt, or a free meal for earning enough stripes. They recently just changed their menu, and have several new items that I feel you need to try. The strawberry fields salad was soooooo good! I think I just found a new favorite meal.







We also tried the new chips and dip trio for an appetizer, which we both really liked. My daughter ordered the Japanese Hibachi Skewers, which was also delicious. The best thing was , with the coupon, all 3 items plus two drinks was only $24.95 (before tip) I also got another appetizer survey AND went over 100 Stripes points, so I just earned two more high value coupons. Be sure to stop in and give some of their new items a try!







Since I have been busy with Kara's injury the last couple of days, and then spent time with my other daughter, I have not yet had a chance to do the features. I promise to get those up shortly!










I don't have a lot of rules. I would like that you follow my blog, so you will know when about the features and parties. Please post my button somewhere on your blog, so more people will know about the party.

You can link up as many things that you want to share.

I will be sharing features on the blog, on Facebook and my Pinterest boards.

Now link up and have fun!













FRIDAY, APRIL 27, 2012

Dare to Share #5

It's Friday and that means it is Dare to Share time again. I can't wait to see what everyone has to share this week. I don't have a lot of rules to my party. You can link up anything that you would like to share. It could be a craft, recipe, party idea, practical tip etc.. You can link up as many links you would like. I do ask that you become a follower of my blog, and place my party button somewhere on your site.

I will be sharing features on the blog, Facebook and Pinterest. Enjoy the party, and have fun!

























































































































































































































































































































































































































































































































































































































































































































FRIDAY, APRIL 13, 2012
Dare to Share Party #3
This past week was a bit slower for me. I took the weekend off for Easter, the kids are on Spring Break, and one of our computers bit the dust. As much as I absolutely love the slower pace and sleeping in, I am also looking forward to a little bit a schedule.
On schedule this week is the linky for Dare to Share Party #3.
I don't have a lot of rules, just link up something fun you would like to share. It could be a craft, recipe, practical tip etc..
I do ask that you please follow me through GFC, Facebook, or Linky
I would also ask that you place my button somewhere on your blog, to help get the word out about Dare to Share.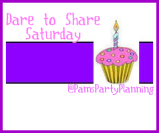 I do feature posts on the blog, but also through my facebook and pinterest pages.
So link up and HAVE FUN!


FRIDAY, APRIL 6, 2012
Dare to Share #2
Welcome to Dare to Share Party #2
I was hoping to get this up earlier, but today was a very busy day/evening. I had to get groceries this afternoon to be prepared for Easter Sunday. I also had to have the house prepared because we were having some "new to us" furniture delivered. Tonight I spent a fun evening with friends watching a comedy group at their church. We got to eat a lot of appetizers and dessert. The best part was the chocolate fountain, where I get to eat a several chocolate covered treats Anyway, better late than never.
I am having some problems with my computer right now, so I will be sharing my features tomorrow. I have to tell you that chosing features is HARD. I wish I could pick each and everyone of you.
Please post anything thing fun you would like to share. It could be a recipe, craft item, household tip and more. There is no limit to the amount of posts you can share. The more the merrier is welcome.
The only thing I ask is that you follow my blog and post my button somewhere on your blog.
Grab the link from the button posted on the upper right hand side of this blog. A big shout out of THANKS goes to TWO SASTERS for fixing the button code last week.
Have Fun!




FRIDAY, MARCH 30, 2012
Dare to Share Linky Party
Well it is now time for my first Linky Party. I have been thinking of hosting one for quite awhile, and finally took the plunge. I love to share tips about recipes, crafts, couponing and more with my girlfriends. Dare to Share is a party for anything that you feel you would like to share. It can be almost anything.
I wont have a lot of rules, but I would like you to follow my blog.
You don't have to backlink, but please add my button somewhere on your blog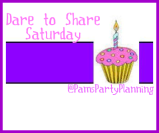 >
I will be sharing features on my blog, Pinterest, and Facebook
Dare to Share Linky Party #1